Source: DailyClimate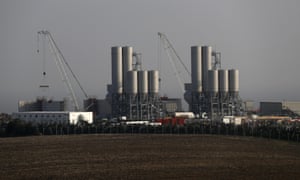 Greens would ditch Hinkley Point C – an expert view on the manifestos

Conservatives
New support for fracking to extract shale and coal seam gas is the most striking pledge from the Conservatives, with the easing of planning rules, a new dedicated regulator and more of any future tax revenues going directly to communities hosting shale gas sites. Wind power remains ruled out in England, but offshore wind farms are supported. The energy efficiency of all fuel-poor homes would be upgraded to meet energy performance certificate (EPC) band C criteria by 2030. There is no environment section in the manifesto and the UK's air pollution crisis gets a single sentence: "We will take action against poor air quality in urban areas." A free vote on repealing the ban on fox hunting with dogs is promised.
Labour
Four million homes would be insulated to cut emissions, improve health and lower bills. Fracking would be banned but new nuclear power stations and renewable energy, including tidal lagoons, are supported. On air pollution, a new Clean Air Act is promised, but without any detail. The controversial badger cull, intended to curb TB in cattle, would end and bees and other pollinators would be protected by a ban on neonicotinoid pesticides. Labour would "set guiding targets for plastic bottle deposit schemes", aimed at cutting the 7bn single-use bottles sold in the UK each year.
Liberal Democrats
Five new green laws are promised on transport and pollution, nature, buildings, waste and making the UK zero-carbon. Air pollution would be cut by new ultra low emission zones in 10 more towns and cities outside of London, a diesel scrappage scheme and a ban on the sale of diesels by 2025. Fracking is "opposed" but government support for solar and wind power would be restored. Four million homes would be required to meet EPC band C criteria by 2022 and all homes in England by 2035. New homes would have to be zero carbon. The Lib Dem tree-planting target is far higher than other parties, at 6.5m a year for a decade. Like the 5p charge on single-use plastic bags, there would be a 5p charge on disposable coffee cups.
Greens
Nine million homes would receive energy efficiency upgrades, bringing two million people out of fuel poverty. Fracking would be banned and the planned Hinkley Point C nuclear power station in Somerset cancelled, while public funds would be divested from the fossil fuel industry. A new government-owned investment body would finance the transition to a zero-carbon economy. The Greens would "end the monopoly of the big six [energy companies] by building democratic, locally owned alternatives", which would get priority access to the national grid. Plastic waste would be tackled with the introduction of a bottle deposit scheme and free public water dispensers.