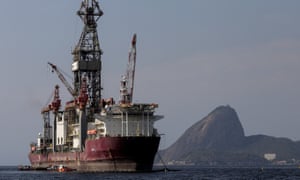 Brazil's oil sale plans prompt fears of global fossil fuel extraction race

Government proposal to give tax relief for offshore oil would increase emissions and contradicts the nation's progressive stance in Bonn
Brazil is planning a fire-sale of its oil resources before shrinking global carbon budgets push down demand and prices, environmental groups have warned.
The focus of concern is a government proposal for up to $300bn in tax relief to companies that develop offshore oilfields that opponents claim would use up 7% of humanity's emission budget if global warming is to be kept below 2C.
Climate Observatory, WWF, Greenpeace and other groups say the subsidies could spark a get-it-out-of-the-ground race with fossil fuel rivals such as the US, Saudi Arabia, Russia, Norway and the UK.
The accusations contradict Brazil's position at this week's climate talks, where the country's negotiators have urged the world to be more ambitious in cutting carbon emissions.
"The country is doing the exact opposite – increasing emissions and opening itself up to big oil with billionaire subsidies at a time when the country still tries to recover from its worst recession," said Carlos Rittl, executive secretary of Climate Observatory.
The pre-salt fields are believed to contain oil and gas equivalent to 176bn barrels of crude, or 74.8bn tonnes of CO2. This is 7% of the carbon budget for 2C and 18% for 1.5C, according to calculations by Climate Observatory
Extraction is already under way, but the administration of Michel Temer, who seized power in an impeachment plot against former president Dilma Rousseff last year, is keen to accelerate the process.
It has proposed a bill – known as MP 795 – that would slash taxes up until 2040 for firms that win auctions to develop the oil fields. The subsidy would give the government one of the lowest revenue shares in the world of each barrel extracted, effectively undercutting the competition.
"This is a terrible signal," said Jennifer Morgan, executive director of Greenpeace International. "With this bill, Brazil will make the global responsibility to reduce emissions even more difficult than it already is."
Congress is due to vote on the bill before 15 December. Opposition congressmen say the subsidies for oil are unjust at a time when health and education budgets have been frozen for 20 years and payments for forest protection have been slashed.
The government says the measure is necessary to ensure the success of future auctions which will generate revenue to help an economy that is only slowly emerging from its worst recession in a century. It has earmarked 70.5% of all energy investment until 2026 (pdf) to be spent on fossil fuels.
Brazil's carbon emissions surged 8.9% last year – the biggest rise since 2008 – largely as a result of increased deforestation in the Amazon and Cerrado.
This threatens the lead-by-example role that Brazil's skilled diplomats have long played at climate talks.
Officials point out that many developing countries are also promoting oil and coal and that in some cases, such as Germany, their emissions are also rising. By comparison, they say, Brazil gets 74% of its energy from renewables (mostly hydropower dams) and that the pace of deforestation slowed by 16% this year after a two-year uptick that pushed the country off course from its climate goals.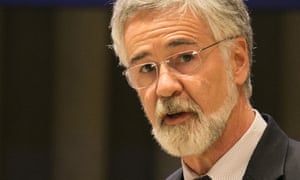 The country's chief climate change negotiator, José Antônio Marcondes, insisted Brazil was doing its part and urged developed nations to pick up the pace by taking action over the next three years.
"If we are to reach the goals set out in Paris, we cannot delay action until 2020. Ambition and actions should not be postponed," he said. "If we do not meet the deadlines, if things become even harder on the discussions – which we are doing everything to avoid, we must not, we cannot run the risk of repeating Copenhagen when the world failed to agree on action."
It was exactly the sort of stirring and positive argument that has enabled Brazil to push past negotiations forward and bridge the gap between rich and poor countries. However, when asked about proposals back home for fossil fuel subsides, he was far less assured.
"We are of course following the legislative discussions around any possible fiscal measures. However, it should not be overlooked that we adopted in the Paris Agreement emissions reduction targets that are among the most ambitious in the world – across both developed and developing countries – and these targets are on top of the dramatic reductions already achieved," he said.