Source: DailyClimate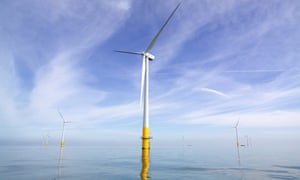 Innogy Renewables chief claims future reactors will not be competitive as offshore windfarms become even cheaper
New nuclear power stations in the UK can no longer compete with windfarms on price, according to the boss of a German energy company's green power arm.
Hans Bunting, the chief operating officer of renewables at Innogy SE, part of the company that owns the UK energy supplier npower, said offshore windfarms had become mainstream and were destined to become even cheaper because of new, bigger turbines.
Asked whether nuclear groups that want to build new reactors in the UK could compete with windfarms on cost, even when their intermittency was taken into account, Bunting replied: "Obviously they can't."
His comments came after MPs criticised the £30bn cost to consumers for EDF Energy's Hinkley Point C nuclear power station, and said ministers should revisit the case for new nuclear before proceeding with more projects.
Innogy recently secured a subsidy of £74.75 per megawatt hour of power to build a windfarm off the Lincolnshire coast, which is £17.75 cheaper than Hinkley and should be completed about three years earlier.
"What we see now [with prices] is with today's technology. It's not about tomorrow's technology, which is about [to come in] 2025, 2027, when Hinkley will most likely come to the grid … and then it [windfarms] will be even cheaper."
While the company is planning to use the most powerful turbines in the world today for the Lincolnshire windfarm, Bunting said even bigger ones in development would drive costs down further.
"A few years ago everyone thought 10MW [turbines] was the maximum, now we're talking about 15[MW]. It seems the sky is the limit," he said. "[It] means less turbines for the same capacity, less steel in the ground, less cables, even bigger rotors catching more wind, so it will become cheaper."
However, EDF argued that nuclear was also on a path to lower costs.
"Early offshore wind projects started at around £150 per MW/h and developers have shown they can offer lower prices by repeating projects with an established supply chain – the same is true for nuclear," an EDF spokesman said.
"EDF Energy's follow-on nuclear projects at Sizewell and Bradwell will remain competitive with other low-carbon options and we are confident they can be developed at a significantly lower price than Hinkley Point C."
In an interview with the Guardian, Bunting said Innogy was strongly committed to the UK despite its subsidiary npower merging with the big-six supplier SSE. A third of the group's renewables staff are based in the UK.
"The npower and SSE merger does not for us mean we are going to leave the UK. No way. We're going to stay here, and grow here," he said.
He argued the new supplier would be good for billpayers, contrary to consumer groups' fears. "There is an industrial logic in it. I think at the end of the day it will help competition because then you have two large players on the market, and they will be more efficient."
Bunting said he would like to build onshore windfarms in the UK too, if the government rethought its ban on subsidies for them.
He said the political argument against them – public opposition in Tory shires – no longer stood because potential windfarms in Scotland and Wales were more likely to win subsidies.
"England shouldn't worry because England doesn't have such good wind conditions … in an auction [for subsidies] the English sites would anyway struggle to qualify against Welsh and Scottish sites."
Innogy would also take a close interest in building large solar power plants, if ministers reopened support for them, he added.
Bunting rejected the idea that the subsidy costs of paying for clean power should be shifted off energy bills and into general taxation, as British Gas's boss has argued for.
Such a change would make the cost of clean power less transparent and deter households and businesses from taking steps to save energy, he said. "If part of the energy [costs] is tax-financed it will become completely intransparent," he said.
A spokesman for the Department for Business, Energy and Industrial Strategy said: "We need a diverse energy mix to ensure that demand for energy can always be met, and both nuclear and renewables will play an important role in this for many years to come."