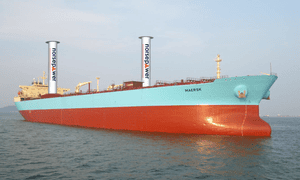 Invented a century ago, rotating columns fixed to ship's deck interact with wind to provide forward thrust and could make 10% fuel saving
An ocean-going tanker is to be fitted with a type of "spinning sail" invented almost a century ago in a step that could lead to more environmentally friendly tankers worldwide.
The unusual sails are rotating columns fixed to the deck of the ship, whose interaction with the wind provides forward thrust. The trial is backed by Maersk, one of the world's biggest shipping companies and Shell's shipping arm.
International shipping runs largely on highly polluting "bunker" fuel and the industry is coming under increasing pressure to play its part in tackling climate change by reducing emissions. Technologies being explored to cut pollution include kites, batteries or using biofuels.
The spinning, or rotor sail, was invented by the German engineer Anton Flettner and he put it into practice on two ships, one of which crossed the Atlantic in 1926. It propels the ship because when wind passes the spinning rotor sail, the air flow accelerates on one side and decelerates on the opposite side, creating a thrust force perpendicular to the wind direction.
The rotor sails being installed on a 240 metre-long Maersk tanker are modern lightweight versions produced by the Finnish company Norsepower. They will be 30 metres tall and 5 metres in diameter, the largest rotor sails ever deployed and the first to be used on a tanker.
In favourable wind conditions, each rotor sail can produce the equivalent of 3MW of power, much more than the 50kW of electricity needed to turn it, said Norsepower's CEO, Tuomas Riski. If the wind direction reverses, the rotation of the sail can be also be reversed.
Riski said that overall fuel savings of 7-10% were expected, equivalent to about 1,000 tonnes of fuel a year: "We are pretty confident we are in this kind of range." The company has already deployed its rotor sails on a roll-on/roll-off ferry and saw a saving of 6%.
Riski said technology improvements and the rise of environmental regulations mean the rotor sail could take off now, having failed to compete with diesel power in the 1920s. "Wind is the only renewable energy available at large scale in the ocean," said Riski.
The new sails will be fitted during the first half of 2018, then analysed at sea until the end of 2019.
"This is one of the few fuel-saving technologies that could offer double-digit percentage improvements," said Andrew Scott at the UK's Energy Technologies Institute, an industry-government partnership that is helping fund the trial.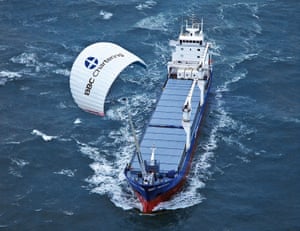 Shipping moves much of the world's goods but is a significant source of air pollution and carbon emissions. A deal agreed by the UN's International Maritime Organisation in 2016 will cut sulphur emissions from 2020 but was heavily criticised for postponing any action on greenhouse gases.
"The IMO was first charged with acting by the Kyoto Protocol in 1997 and now, two decades later, the IMO's latest greenhouse gas emissions reduction plan envisages a further seven-year period to collect data and navel gaze with no commitment to act at the end of all this," said Bill Hemmings at the NGO Transport & Environment.
However, some shipping companies are already exploring cleaner energy systems, with the cruise liner firm Hurtigruten ordering a pair of hybrid powered ships that will use a battery system to help power them. Another approach is to use the waste heat from a ship's diesel engines to produce electricity.
The German company SkySails uses large kites to provide wind power to modern shipping, while another, Enercon, fitted four rotor sails to a transport ship in 2010, though Norsepower's rotor sails will be larger.
Riski said: "Flettner sailed across the Atlantic and proved they worked. Now the world might be ready to make this real product. I think it will be a no-brainer."
This article was amended on 14 March 2017 to clarify how the rotor sail works.