Source: DailyClimate
Automakers welcome president's plan for EPA to review fuel efficiency mandate while critics warn reversal would endanger health and environment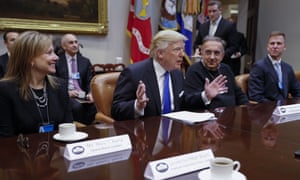 Donald Trump has begun the process of rolling back carbon pollution standards for vehicles following a meeting with automakers in Detroit, Michigan.
Trump has directed the Environmental Protection Agency to review fuel efficiency standards that were a key plank of Barack Obama's effort to reduce greenhouse gas emissions. The move is a victory for carmakers who have claimed the standards are too onerous and out of step with Americans' car buying habits.
"These standards are costly for automakers and the American people," said the EPA administrator, Scott Pruitt.
"We will work with our partners at the department of transport to take a fresh look to determine if this approach is realistic. This thorough review will help ensure that this national program is good for consumers and good for the environment."
In an agreement struck with automakers in 2012, the Obama administration required that cars run 54.4 miles per gallon of fuel by 2025. This standard, up from 27.5 miles per gallon, would reduce greenhouse gas emissions by 6bn tons over the lifetime of new vehicles and save 2m gallons of oil per day by 2025.
In the final month of Obama's presidency, the EPA affirmed in a midterm review that automakers are "well positioned" to meet the new standard. Trump is ordering a review of this finding, opening the way for a weaker standard to be drawn up. The White House said the new review will "rely on the best available data and information, which the previous administration ignored".
A White House official said the automakers feel the EPA "shoved it down their throats" and that the standards needed to be redone.
"The process was very short-circuited," said the Trump official, who spoke anonymously before the president's announcement. "There was a lot of data that was submitted, and I think it is fair to say the Obama EPA just ignored it."
Trump unveiled the review at an event in Detroit where he met with executives from companies, including General Motors, Ford and Fiat. The president said he was going to "bring a lot of jobs back to Michigan and Ohio and Pennsylvania".
Dennis Williams, president of the United Auto Workers union, raised concerns about the environmental impact of more loose fuel efficiency standards. In response, Trump said: "We all agree with you 100%. One hundred percent. We want you to make great cars, but if it takes an extra thimble of fuel, we want you to do it."
Former EPA officials and environmental groups have decried the reversal, pointing out that carmakers had previously complained about fuel efficiency standards only to easily meet the requirements due to the evolution of technology. There are already more than 100 car and SUV models that meet standards that stretch beyond 2020, with the Chevrolet Volt, Toyota Prius, Chevrolet Spark and Smart ForTwo already matching the 2025 standard.
American drivers are also set to lose out, with the Obama rules forecast to save an average of $8,000 on gasoline costs for a new car.
"We need to put clean car standards in the fast lane to keep our air clean and our climate safe," said Michael Brune, executive director of environmental group, the Sierra Club. "Donald Trump and the automakers are endangering the health of our children and families by abolishing lifesaving vehicle emissions protections that cut down on dangerous smog pollution and asthma attacks."
Kristin Igusky, climate program associate at the World Resources Institute, added: "There's no doubt that the current standards are reasonable and achievable. In fact, the industry as a whole has surpassed the vehicle standards in each of the last four years, while creating jobs and selling more vehicles than ever."
Carmakers welcomed the review. Mitch Bainwol, president and chief executive of trade lobby group, Auto Alliance, said: "By restarting this review, analysis rather than politics will produce a final decision."
Trump's rolling back of fuel efficiency standards is set to be followed by further actions to dismantle climate policies enacted by Obama. The administration is set to lift a moratorium on coalmining on federal land and start to unpick various climate rules, including the Clean Power Plan, which imposes emissions limits on the states.
Trump is also mulling whether to withdraw the US from the Paris climate accord. On Wednesday, an alliance of 1,000 US companies took out ads in Washington DC publications to urge Trump to stay in the deal and work towards a low-carbon economy.
The group, which includes Mars, General Mills and Ikea, warned that "failure to tackle climate change could put America's economic prosperity at risk".