Source: DailyClimate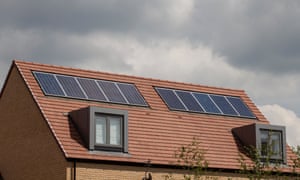 Ministers are thought to be planning to offer £3m for initiatives such as solar panels on social housing
Green energy projects run by cities and local authorities around the UK stand to receive millions of pounds of government support, providing another fillip for renewable power just a day after the subsidised price of windfarms hit a record low.
The Guardian understands that ministers this autumn will offer more than £3m to help local leaders build low carbon initiatives, such as installing solar panels on social housing.
The funding would be a key plank of the government's upcoming blueprint on how to meet the UK's binding carbon targets, the Clean Growth Plan.
The anticipated support is a response to calls from a network of more than 70 UK cities, which said they wanted to build clean energy projects at a local level but warned that they were struggling to finance them.
"We believe the UK has a great opportunity to lead the world in an early shift to a fossil-fuel-free economy, just as we have led the world in previous industrial transitions," said Judith Blake, leader of Leeds city council, and John Holdich, leader of Peterborough city council.
Both cities are members of the UK100, which backs action on climate change and clean energy.
But in a new report, the network said local authorites often lacked the technical expertise for accessing finance and EU funds being cut off post-Brexit posed a further challenge.
The report's authors, former employees of the engineering giant Arup and the recently privatised Green Investment Bank, called on ministers to tackle the problem by creating Clean Energy Action Partnerships between national and local government.
The partnerships would employ teams of experts to support councils who want to build local low carbon projects, such as heat networks or solar power.
Claire Perry, the climate minister, is understood to be sympathetic to the proposals. One idea put forward in the UK100's report is that clean energy projects run by councils could enjoy a cut in business rates.
Perry is believed to have told local leaders she looks forward to helping them access finance.
Perry said: "We want to build on our success and that's why collaboration across government, and with people and organisations throughout the country, is vital as we prepare to launch our Clean Growth Strategy."
The backing for locally owned clean energy came as a thinktank of Labour members and MPs criticised the lack of UK ownership for offshore windfarms, such as the ones awarded nearly £200m a year in subsidies on Monday.
The Labour Energy Forum found the Danish state-owned company Dong Energy owned 31.5% of all offshore wind capacity in the UK, with private German, Spanish and Swedish firms dominating the rest of the market.
Rebecca Long-Bailey, the shadow business secretary, said Labour supported offshore wind but wanted to see windfarms built off the coast that were publicly owned by the UK.
"Labour not only supports investment and real proactive support for the renewables sector but we also commit to ensuring more rapid growth and diversification of ownership within this important sector through the creation of publicly owned and locally accountable energy companies and co-operatives," she said.