Source: DailyClimate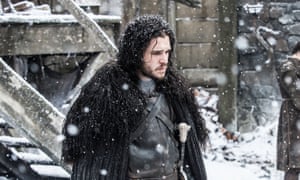 Kit Harington describes a 'very sad irony' as the HBO show films in locations where ice is shrinking, even as his character fears the approaching winter
His character Jon Snow may fret about the arrival of winter, but Game of Thrones actor Kit Harington has said he was instead confronted by "terrifying" evidence of global warming while filming the HBO show.
Harington said it was a "very sad irony" to film in locations with diminishing ice for scenes where the arrival of winter, and the frosty undead from beyond the Wall, is feared by his character.
"We went to Iceland to find snow, because winter is here," the actor told Time. "We got there and we were lucky to get the snow we did, because in our world, winter is definitely not here. It's this weird parallel, the opposite parallel.
"We go out there this year, and the glacier that me and Rose [Leslie, who played his love interest Ygritte] filmed on four years ago, I saw it and it has shrunk. I saw climate change and global warming with my own eyes, and it is terrifying."
Game of Thrones has used several locations in Iceland as backdrop to scenes from beyond the Wall – a frigid, snow-blanketed environment where the itinerant Wildings are threatened by the advance of the undead White Walkers.
Grjotagja, a cave near the town of Akureyri, is where Snow and Ygritte sleep together, while the Svínafellsjökull and Vatnajökull glaciers are also featured.
Vatnajökull, Europe's largest glacier, is estimated to be shrinking at a rate of 1 meter (3ft) a year and will probably disappear, along with Iceland's other glaciers, within 100 years, a government committee has warned. This rate of decline is shared by many of the world's largest ice sheets, with warming temperatures causing them to melt away and ultimately fuel sea level rise.
Game of Thrones also films on location in countries such as Northern Ireland, Spain and Croatia. Harington said the show, despite the misery endured by many characters, is increasingly a pleasant distraction from recent real-world events.
"There is a lot of chaos in the world right now, whether it's implemented by our government, purposeful chaos or not," he said. "It's interesting being in a TV show that is not reflecting the world, but at the same time is.
"Now, Westeros maybe feels like a nice escapism compared to what you're seeing on the news, because the world's politics has gotten very, very dark in recent weeks and months."
The seventh season of Game of Thrones starts in July.