Source: DailyClimate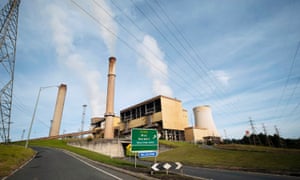 Environmental Justice Australia report says Australian coal-fired power plants regularly exceed lax limits imposed on them
Australian coal-fired power stations produce levels of toxic air pollution that would be illegal in the US, Europe and China, and regularly exceed even the lax limits imposed on them with few or no consequences, according to an investigation by Environmental Justice Australia.
The report reveals evidence that operators of coal power plants in Australia have been gaming the systems that monitor the deadly pollution, while others have reported figures the federal government says are not reliable.
EJA's investigation reveals further cases of allegedly misleading behaviour. In Victoria, regulators are investigating one case in which a representative of a coal power plant allegedly said it regularly "simplifies" reporting during periods of excessive pollution by just reporting the figure allowed by its licence, rather than the actual amount.
Pollution from coal power plants kills hundreds of people each year in Australia. In Sydney alone, about 130 premature deaths are thought to be caused each year by coal-fired power stations, with worse impacts in regions near the stations.
Nationally, the health effects from the pollution emitted by coal-fired power plants are estimated to cost $2.6bn – a figure that would amount to $13.20 a megawatt hour if it were added to power costs.
Researchers at EJA collected the individual pollution limits allowed for 10 of Australia's 17 commercially operating coal-fired power stations, chosen for their high levels of pollution and proximity to populated areas.
Standardising the limits for comparison and collating them with regulations in the US, Europe and China, they found that in almost all cases Australian coal power plants were allowed to emit more toxic pollution.
Mercury emissions compared particularly badly. Coal-fired power is the second biggest Australian source of mercury, which accumulates in the environment, causing significant harm to people.
Some coal-fired power plants in New South Wales were allowed to emit 666 times what would be allowed in the US, and 33 times what is allowed in the EU and China.
Fine particle pollution, which causes hundreds of premature deaths each year, also compared very badly. Every coal power station in Victoria is allowed to emit more particulate pollution than power stations in any of the other three jurisdictions examined, and all in NSW were allowed to emit more than the Chinese limit.
Australia has no national standard, with each power station having its own limits. But the EJA researchers found even those limits were poorly monitored, often exceeded and rarely enforced.
Many power stations were required to monitor their pollution levels only once or twice a year, the investigation found. Allegations uncovered by EJA, that one power station was gaming the system by putting less polluting coal into the generator when the levels were measured, sparked an inquiry by the NSW Environmental Protection Agency in May.
Levels of particulate pollution reported to the National Pollution Inventory revealed changes in pollution levels from year to year that the federal Department of the Environment and Energy said were "not reliable".
One station, Mount Piper in NSW, recorded a fall in emissions of 90% between 2014 and 2015, which the department told Guardian Australia was "unlikely".
EJA uncovered a previously unpublicised EPA investigation into the coal-fired power station at Yallourn in Victoria, operated by Energy Australia. A representative of the power plant told the EPA it did not report when pollution levels were exceeded, just that the plant emitted at the limit.
A spokeswoman for Energy Australia would not say how long the practice went on, or why the company did it. But in a statement to Guardian Australia, she said: "To be clear, the Yallourn power station is compliant with strict EPA Victoria requirements relating to air pollution monitoring and in addition establishes, monitors and meets its own internal targets to protect local ambient air quality."
The investigation also attempted to clarify how many of Australia's coal-fired power plants were using the best available technology to limit toxic emissions. The researchers asked the operators of all 10 power stations studied what technology they had in place. Partial information was received for just six of the power stations.
Between the responses and the actual pollution data, the researchers concluded that none of the 10 stations had the latest technology. That includes "wet scrubbers" that can remove 99% of sulfur pollution and "catalytic reduction methods" that can reduce nitrogen pollution.
"All power stations are emitting significantly more pollution than they would if they had these technologies installed," the report concludes.
It notes that if the pollution limits in the power stations licences were reduced, they would be forced to use the technology.
"Australia's air pollution laws are weak, outdated, poorly monitored and inadequately enforced," said EJA lawyer Nicola Rivers, a co-author of the report.
The report also compared the toxic pollution from Australia's old coal-fired stations to that of the newest "ultra supercritical plants," finding that if current best technology were applied to the existing stations, new plants would not reduce pollution significantly.
The report called for urgent action to reduce deaths, including the introduction of binding national emission standards requiring international best practice, and emissions reduction programs run by the states for fine and coarse particle pollution, and sulfur and nitrogen pollution.