Prime minister told to adopt a domestic gas reservation policy to deal with forecast LNG shortages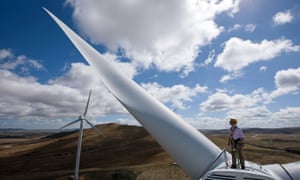 The prime minister is under mounting internal pressure to adopt a domestic gas reservation policy to deal with forecast shortages. The chairman of the government's backbench committee on energy and the environment, Craig Kelly, has said it is something Malcolm Turnbull should consider.
With Turnbull due to meet senior executives from the east coast gas companies on Wednesday, Kelly told Guardian Australia the government needed to be open to adopting a reservation policy to ensure that a looming lack of gas supply did not create a full-blown energy crisis.
Kelly said he would be open to either the Queensland government's policy to reserve a specific area for development for domestic supply only, or to the Western Australian policy, where 15% of the gas produced by each liquefied natural gas project must be kept for domestic use.
Kelly's intervention follows similar arguments last week from the Nationals MP Andrew Broad, who is the chairman of federal parliament's environment and energy committee – a separate committee made up of MPs from across the parliament.
Broad told Guardian Australia's Politics Live podcast there needed to be serious consideration about whether 15% of gas supply should be reserved for Australian manufacturing.
The prime minister summoned the gas chiefs to this week's meeting with the government after the Australian Energy Market Operator issued a pointed warning that New South Wales, Victoria and South Australia would likely face gas shortages from the summer of 2018-19.
The forecast supply shortage, which has driven up wholesale prices, has been looming for some time. A senior executive from AGL told a Senate inquiry last week the problem was currently so dire the company was contemplating building its own LNG hub in Queensland to help secure reliable supply downstream.
With pressure on the government mounting, the prime minister last Friday refused to rule out reserving gas for domestic industry, saying he would consider "all measures" to ensure energy security.
Over the weekend, Turnbull also had a conversation with the Tesla boss Elon Musk, who became involved in the debate about the reliability of energy supply in South Australia last week.
A number of players have identified that a lack of reliable gas-fired backup power has been a factor in the recent South Australian blackouts. Musk has intervened in the debate, pledging to install the batteries needed to store energy generated from renewable sources within 100 days or "it is free".
Senior sources say the government has not yet resolved what specific policy mechanisms it might adopt to open up more gas supply for domestic manufacturers and households, but all options were on the table given the seriousness of the situation.
The gas industry has been opposed to domestic reservation policies, arguing they are a disincentive to investment – and portfolio ministers up until now have been decidedly lukewarm on the concept.
The resources minister, Matt Canavan, expressed public opposition to the idea of a domestic reservation only a week ago. "We don't make sure we have enough scotch fillet in the supermarket by telling farmers they can't sell their beef or cattle to overseas markets," the resources minister told Sky News.
"We let them sell to a wide range of markets which gives them confidence to invest which gives them a good return when they can get a good price – and we have plenty of steak."
The energy minister, Josh Frydenberg, has also opposed the idea on the grounds that it would stop companies developing new projects.
"The issue in Australia has always been that it would be a deterrent to further investment if you were going to restrict the gas merely for domestic supply as opposed [to] for international export," the minister said last week.
But in signs of a policy shift, Frydenberg has also pointed to the Queensland policy as being something that could be considered.
"I think that is quite a creative way forward because it doesn't introduce the possibility of sovereign risk because it doesn't effect existing investments but it does encourage further investments to supply the domestic market," Frydenberg said.
Last year the Australian Competition and Consumer Commission warned the government against adopting a reservation policy – be it a percentage of reserved gas supply, export controls or a national interest test – to try to address the problem of gas shortages in Australia's eastern states.
The ACCC said gas reservation policies "seek to shield domestic users from the effects of linking to export markets".
"In the short term such policies may reduce prices for domestic users as additional gas is forced onto the domestic market above efficient market demand," the competition watchdog said. "These artificially reduced prices weaken the economic incentives for further gas exploration and appraisal."
Kelly told Guardian Australia the investment-killing arguments that had been mounted against gas reservation policies by competition authorities and the industry were valid in the past, but were significantly less valid now.
Kelly noted there had been considerable investment in the gas industry, and the more acute problem now was a looming shortage of energy supply for Australian manufacturing.
"Going forward, I think [a reservation policy] is something we should look at," Kelly said.
He said he didn't have a view about whether the Queensland model or the WA model was better. "Either of them are fine, depending on the situation," he said. "It will have to be horses for courses."
Kelly said creating a reservation policy was only one part of a policy response to the current challenges.
He said the states also had to come to the table because moratoria on gas exploration, which exist in several states were part of the reason supply was such an acute issue.
Kelly said the consequences of the state bans were now "coming home to roost."
"The states can't say this is all down to the commonwealth to fix," the Sydney Liberal said. "We have got to get the states involved."