Source: Daily Climate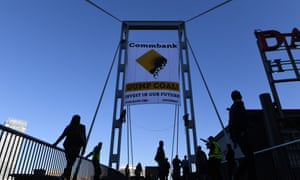 In world-first case, shareholders' move comes after the Australian financial regulator warned climate change poses material risk to entire financial system
The embattled Commonwealth Bank is being sued by shareholders for what they say is a failure to properly disclose the risks to the business posed by climate change.
The case will be the first anywhere in the world to test in court how companies are required to disclose climate change-related risks in their annual reports, and follows calls by shareholders, regulators and central banks around the world for greater clarity.
The papers were filed on Tuesday, after which the federal court will decide how the case should proceed.
The claim, brought by lawyers at Environmental Justice Australia on behalf of Commonwealth Bank shareholders Guy and Kim Abrahams, says the bank's 2016 directors' report did not adequately inform investors of climate change risks.
It also seeks an injunction to stop the bank making the same omissions in future annual reports.
The move comes six months after the Australian financial regulator warned climate change poses a material risk to the entire financial system, and called for companies to report on climate change-related risks as financial risks.
The sorts of risks the Commonwealth Bank might face as a result of climate change are diverse, said David Barnden, a lawyer at Environmental Justice Australia.
"CBA has exposure to the Australian economy in general. We could be talking about anything from extractive projects to the housing market, which might face risks from sea level rise," Barnden said.
Reputational risks for the bank as the economy moves away from fossil fuels could also be significant, Barnden said, with the shareholders raising concerns about the bank's position on funding Adani's proposed Carmichael coalmine and associated infrastructure.
"There is an aspect of the claim that looks at the reputational and financial risks the Carmichael mine might pose to the bank," Barnden said. "We say that CBA ought to have known of those risks and should tell investors what its plans are with respect to the mine and if it is considering financially supporting the mine."
Another part of the claim focuses on the Commonwealth Bank not disclosing any climate-related risks as major or material risks. "When the bank talks about major or material risks to the bank, we say it should be talking about climate change," said Banden.
In February, Geoff Summerhayes from the Australian Prudential Regulation Authority, gave a speech saying that business needed to stop reporting on climate change as a purely ethical or environmental issue and begin seeing it as a financial problem. He said: "Like all risks, it is better they are explicitly considered and managed as appropriate, rather than simply ignored or neglected."
And in June, the G20's Task Force on Climate-Related Financial Disclosures (TCFD), led by Bank of England governor Mark Carney and former mayor of New York City Michael Bloomberg, recommended banks disclose lending to companies with carbon-related risks.
The report recommended banks and other organisations include climate-related risks in their audited annual financial statements.
The proposals were supported by nearly 400 institutional investors controlling US$22tn in funds.
Emma Herd, chief executive of the Investor Group on Climate Change in Australia, said putting climate-related risk into the heart of financial reporting means it is treated very differently by the company.
"It means that you have a different level of internal governance processes, a higher degree of audit and scrutiny and you report the information in a much more robust and detailed way," she said. "It's stepping it up a notch in terms of how seriously companies treat the data."
Herd said a lot of companies – not just banks – would be watching the case for potential implications any decision might have for their reporting requirements.
"For banks as well as all companies, this is an area that is moving very quickly," Herd said. "And certainly from the investor perspective the bar keeps getting raised in terms of what is considered adequate disclosure in terms of climate-related financial risk."
The case focuses on sections 297 and 299A of the Corporations Act. Section 297 says annual financial statements must present a "true and fair view" of the financial position and performance of the company. Section 299A says the financial report must contain enough information to allow people to make an informed assessment of the company's financial position, business strategies and future prospects.
Guy Abrahams, one of the claimants and a chief executive of not-for-profit Climarte Inc, said in a statement: "We bought Commonwealth Bank shares more than 20 years ago as an investment in our children's future.
"We are deeply concerned about the serious risks climate change poses to the environment and society. The bank should tell investors about the risks climate change will have on its business."
The Commonwealth Bank has been contacted for comment.