Source: Daily Climate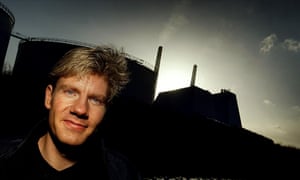 Lomborg's Copenhagen Consensus Centre says investment in keeping temperature rises below 2C would return less than $1 for every $1 spent
Experts have challenged a claim by Bjørn Lomborg's Copenhagen Consensus Centre that holding global temperature rises to 2C is a poor investment.
In 2015 the education department abandoned plans for Lomborg to set up an Australian Consensus Centre, but gave the Copenhagen centre $640,000 to support its Smarter UN Post-2015 Development Goals project.
The project assessed dozens of development goals and found investment in keeping global temperature rises below 2C would return less than $1 for every $1 spent, which it rated "poor" compared with other possible investments.
The claim was based on a 2014 assessment paper by Isabel Galiana. The finding on the 2C limit was one of the project's most controversial, and has been cited in the political debate about whether such targets are worthwhile, as concerns are raised that president Donald Trump will lead the United States out of the Paris agreement.
The report said the 2C target was "relatively ineffective or there is large uncertainty in the benefit-cost ratio" because it was "extremely costly due to a lack of low-carbon energy sources".
But academics have now said Galiana's assessment underestimated the harm caused if atmospheric carbon dioxide exceeded 450 parts per million, and has been superseded by advances in renewable energy technology and the Paris climate agreement.
And Galiana herself has conceded "the paper does not explicitly undertake a benefit/cost analysis of keeping climate change to two degrees" and that a 2C target might be justified if "tipping points" of accelerated environmental damage were considered.
Assessment 'misinterprets' the papers it cites
Climate economist Peter Howard, the economics director at New York University's Institute for Policy Integrity, said the assessment paper provided "insufficient reasons for abandoning a 2°C limit".
Howard said the assessment "misinterprets the main papers that it cites in its defence – which actually demonstrate that immediate climate action is critical and that 450ppm is optimal under realistic scenarios".
One such paper, by Derek Lemoine and Haewon McJeon in 2013, used a break-even point based on economic damage estimates in work by Richard Tol in 2009 that have since been revised upwards in 2015 to "nearly double the value", according to Howard.
In particular, it "omits various climate impacts including tipping points – [which] implies an underestimation of the benefits of the 450ppm goal".
Howard said this and other papers cited concluded the 450ppm target was cost-benefit justified.
Lemoine said his paper – relied on by the CCC's assessment – did not seek to estimate the benefits of reaching a 450ppm target, but rather the "sensitivity to assumptions about these benefits".
Overall, Howard said, the 2C limit was "a wise investment when combined with investment in energy R&D and adaptation".
'Global climate policy has failed'
"Despite much media attention and repeated negotiations within the [United Nations Framework Convention on Climate Change] framework, if measured by performance, global climate policy has failed," the Galiana assessment paper said.
The paper argued that meeting the 2C target would require "immediate and globally coordinated action" and warned that "delayed or fragmented action" would increase the cost of meeting the target.
Jessica O'Reilly, an expert in environmental management and governance, said the assessment paper, dated October 2014, was produced before the Paris agreement "and therefore makes incorrect claims that international climate diplomacy has 'failed'".
The Paris agreement, struck in December 2015, was the first universal agreement to cut greenhouse gas emissions, bringing together nearly 200 countries under a legal agreement that sets ambitious goals to limit temperature rises.
In the agreement, all countries agreed to work to limit global temperature rise to well below 2C, and to strive for 1.5C.
O'Reilly noted that the CCC's assessment paper "opens with an introduction that states climate isn't one of the millennium development goals".
"Those goals have now expired, replaced by the UN's sustainable development goals, one of which, SDG 13, is explicitly about climate change."
Low emission technologies are ready
"Since 2010, coal-fired electricity generation growth has increased more rapidly than non-fossil sources combined," the Galiana assessment paper said.
Assumptions about the availability of low-carbon technology "determine the estimates of the world's ability to cost-effectively achieve given atmospheric concentrations of greenhouse gases," it said.
Kylie Catchpole, an engineering academic with expertise in solar cells at the Australian National University, said the outlook for renewables was "rapidly changing".
Her colleague Matthew Stocks said the availability of low-emissions technology was "no longer an issue".
"More renewable electricity capacity was installed in the last three years than fossil fuels. Renewables are rapidly growing and fossil fuels are slowing," Stocks said. "This is not the result of major breakthroughs, just continued scale and competition driving down the costs of wind and [photovoltaics] in particular.
"These costs are coming down much more rapidly than anyone has predicted. New-build wind and [photovoltaics] is now cheaper than fossils fuels."
Catchpole said: "New generation capacity for photovoltaics increased from 50GW in 2015 to 70GW in 2016 (with an extra 50-60GW from wind), while new coal decreased from 71GW in 2015 to 50GW in 2016."
Catchpole, who said a 2C target was "challenging but achievable", pointed to dramatic reductions in the cost of photovoltaics, down from US$0.70 a watt in 2014 to about $0.45 in 2016, and of batteries "by about a factor of two over the last five years" – both trends that are expected to continue.
"Putting all of these trends together, the cost of transitioning to a low emissions electricity system does not have to be high."
Stocks attributed development of low-emissions technologies to "artificial markets" – such as pricing greenhouse gas emissions or mandating a renewable energy target – and said "research and development alone would not have done this".
Low-carbon technology still a small share
Galiana told Guardian Australia her paper had not explicitly undertaken a "cost-benefit analysis of keeping climate change to two degrees". "The two degree goal is not particularly useful in developing policy except as an aspirational goal."
Galiana said achieving the 2C target in the next 50 years "requires an unprecedented reduction in emissions to well below current levels". "It is true that if we are near a tipping point, and we may be, that even with very high costs of reducing emissions to meet the two degree goal may pass a benefit cost analysis."
She said that despite rapid growth in low-carbon technologies, "they still represent a small share of global energy use … And, we have yet to develop enabling technologies that deal with the intermittency of large scale integration of these low-carbon technologies," she said, a point disputed by Catchpole.
"The current state of technology implies that a steep reduction in emissions is equivalent to a reduction in energy use and consequently a reduction in economic output (ie recession)."
Galiana proposed "moderate emission reduction policies that ramp up as technologies become available … Strong support for low-carbon innovation and enabling technologies will be key."
A spokesman for the Copenhagen Consensus Centre responded to questions about the Galiana assessment paper exclusively by referring to other academic works.
One paper by Richard Tol for the CCC in 2010 found that keeping temperatures to 2.4C "would generate just $0.02 of climate benefits for each dollar spent," the spokesman said, though Tol revised damage estimates upwards in 2015 and the 2010 paper predates advances in renewable technologies.
A second peer-reviewed evaluation by Tol surveyed the literature of cost-benefit analyses of greenhouse gas abatement and found that it was "not in our collective best interest to stabilise concentrations unless there happens to a cheap, large-scale, carbon-free energy source". No response was provided by the CCC to claims that low carbon technologies were now available.
The spokesman said a third peer-reviewed study by William Nordhaus concluded the 2C target was "infeasible" and that even reaching a 2.5C target would require a $184 a tonne carbon tax compare with the estimated social cost of carbon of $31 a tonne.
"This roughly means paying $184 for a benefit worth $31, or a benefit-cost ratio of 0.17. This, once again, confirms that the 2C target has a benefit-cost ratio of much less than one."
However, the Nordhaus paper measured a "hard" limit, which did not account for the ability to overshoot the target and then reduce emissions to reach the 2C target in the long term.