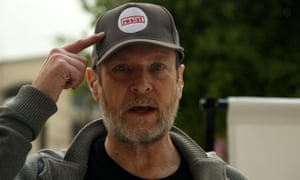 Doug Derwin is investing up to $2m to persuade Tesla's CEO to speak out against US climate change policies and resign from groups advising Trump
Luxury car owners may seem like an unlikely target for organizing a political resistance movement, but to Doug Derwin, it's all about the make: Tesla.
Derwin is investing up to $2m in an effort to persuade Tesla's CEO, Elon Musk, to speak out against Donald Trump's climate change policy and resign from his positions in groups advising Trump on business and manufacturing jobs. On Monday, Derwin launched the website ElonDumpTrump.com laying out his argument that Musk's role in the administration is inconsistent with his role as a leader on climate change.
Full page ads will run in the New York Times, Washington Post, San Francisco Chronicle and San Jose Mercury News on Sunday. Television ads will air during Morning Joe, Meet the Press and Full Frontal with Samantha Bee. Over the past month, Derwin has deployed mobile billboards around the offices of Musk's various companies with messages including "Elon: The Trump Won't Wash Off" and "SpaceX: Is Mars Worth Global Warming Here?"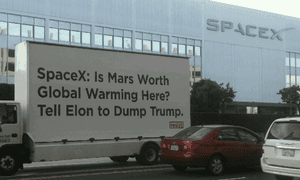 He is also asking owners of Tesla vehicles to sign a petition and send personal messages to Musk. Those on the waitlist for Tesla's coveted vehicles are encouraged to withdraw – an action Derwin took when he learned of Musk's ties to Trump. (Derwin said that he lost his deposit and donated the $150,000 cost of the car to the American Civil Liberties Union.)
So far, Derwin estimates that he has spent $750,000 on the campaign. If Musk accedes to his demands, he has pledged to donate $1m to a charity of Musk's choice.
The Elon Dump Trump campaign is just one of several nascent efforts to pressure the tech industry to push back against the Trump administration, but it may be the best funded. Derwin said he experienced a windfall due to the post-election stock market rally.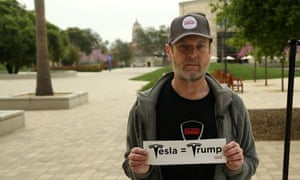 "Donald Trump's election has made me a lot of money," he said. "I consider that blood money. I'll use it to oppose Trump."
While Derwin thinks that Trump's presidency is "a travesty" on multiple levels, he is particularly outraged by his rollback of climate change regulations. The fact that Musk has posed for photo-ops with Trump is particularly galling, Derwin said, because Musk is "recognized as being a leader on climate change".
"I want Musk to speak up against Donald Trump's climate change policies," he said. "His failure to do so sends the message that it's not really a big deal and not worth his time."
Though Musk has yet to respond to Derwin's call, Tesla is certainly paying attention. Sam Teller, director of the office of the CEO at SpaceX and Tesla, contacted Derwin by phone after his billboards started popping up.
Teller told Derwin that Musk's "sincerity shouldn't be questioned" on climate change, and that speaking out against him was the wrong thing to do, according to Derwin. Last week, Derwin was invited to a meeting at Tesla's factory in Fremont, where he sat down with Teller, Tesla general counsel Todd Maron, and Tesla's vice-president of business development, Diarmuid O'Connell.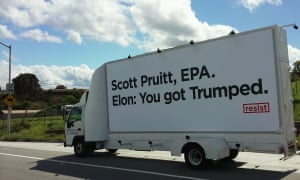 Though Derwin voluntarily agreed to keep the contents of the meeting confidential, he did say that "it didn't accomplish anything". As for the presence of Maron, Derwin said, "I was a lawyer and still am … When you take a lawyer to a meeting like that, it's intended to send a signal."
Tesla did not respond to repeated inquiries about its interactions with Derwin. Asked for comment on Musk's view of Trump's climate change policy, a Tesla spokesman initially shared a statement by Musk from early February, when he was first under pressure to withdraw from Trump's business advisory group.
On Wednesday, a Tesla spokesman provided the following additional statement: "It's quite ironic that the reason being given for attacking Elon is to help the environment. Tesla's entire reason for existing is to accelerate the advent of sustainable energy. If someone wants to spend money to promote a pro-environment objective, we can think of better ways to do that than attacking the people who are most committed to that very purpose. Mr Derwin believes those who want a more sustainable future should not have a seat at the table. We obviously disagree."
In the weeks since Musk met with Trump, the president has rolled back fuel efficiency standards for vehicles, signed an executive order to undo Barack Obama's clean power plan, and proposed a budget that would gut the Environmental Protection Agency's climate change, pollution and energy efficiency programs.