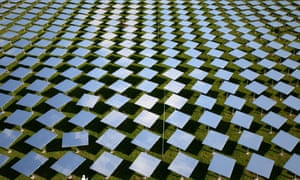 Record levels of green energy in UK create strange new world for generators

As renewables play a greater role in the British market, they are making the price of power increasingly unstable
As the sun shone on millions of solar panels and unseasonable gusts turned thousands of turbine blades last Sunday, something remarkable happened to Britain's power grid.
For a brief period, a record 70% of the electricity for the UK's homes and businesses was low-carbon, as nuclear, solar and wind crowded out coal and even gas power stations. That afternoon was a glimpse into the future, of how energy provision will look in 13 years' time because of binding carbon targets.
On what one grid manager called "stunning Sunday", the carbon intensity of producing power – a key measure of progress towards climate goals – dropped below the "magic number" of 100g of CO2 per kilowatt hour for the first time. That's the level that must be the norm by 2030, according to the government's climate advisers.
Yet last Sunday was just one of a run of striking records for renewable power in Britain that pose profound questions for conventional generators and the companies which manage power grids.
On one Friday in May, solar power briefly eclipsed the UK's eight nuclear power stations. The grid recently went without coal for an entire day for the first time, and the dirty fuel is now regularly absent from power supply for hours at a time.
These milestones are having tangible effects. Solar cuts power demand for National Grid, reducing prices, while wind power also lowers prices. That led to another first last week, when high wind output pushed down the wholesale price and resulted in negative power prices, which means some conventional power plants had to pay household suppliers like British Gas to take their electricity.
"This has surprised people," said John Feddersen, chief executive of analysts Aurora Energy Research, referring to the speed at which negative prices had arrived in the UK.
In Germany, lower power prices driven by the country's green energy boom have wiped billions off the share prices of energy giants E.ON and RWE. But will the likes of EDF and British Gas owner Centrica, which own nuclear and gas plants, face the same fate in the UK?
Feddersen argues that there are two reasons why this will not happen. One is the UK's "capacity market", which has been set to cope with power shortages as coal plants have closed and renewables have made supplies more intermittent. A new scheme will pay conventional power station owners £378m in subsidies this winter to be on standby and ensure the lights stay on.
The other is the payments from National Grid to fossil fuel plants for services that are vital to national power supply, such as "blackstart" – the ability to restart the nation's power grid in the event of a catastrophic, widespread loss of energy supplies. Odd as it may sound, power station owners no longer make money out of power, but from these other mechanisms.
"This is the new world for how the system's meant to work in the UK. Generators know you're not going to get your investment back in the energy market," said Feddersen. "We won't actually see the share-price impacts in the UK that we've seen in Germany," he said. The capacity market is the main reason why.
Rob Lalor, senior analyst at EnAppSys, which monitors energy supply, said: "The big difference between the UK and Germany is they've [conventional operators] been given the opportunity to make money [through the capacity market]."
So far, the low prices seen in the UK during renewable output surges were relatively infrequent and had had limited impact, he said. But that will change as such events become more common – records will continue to be broken because of a pipeline of offshore windfarms being plugged into the grid.
However, it is clear that the growth of renewables has made prices a lot spikier than they used to be. As well as low or negative prices during high wind and solar periods, prices can leap very high when wind doesn't materialise as forecast. Day-ahead power prices in May averaged £41 per megawatt hour, but dipped just below zero early on 7 June during a period of high wind output. Prices also rose as high as nearly £83 in May.
"What you see with more wind and solar in the market is a lot more volatility of prices in the day," said Hervé Touati of the Rocky Mountain Institute, a US energy research body. He has seen the same phenomenon in California, where the two technologies now play a key role in determining price.
In the UK, the rise of renewables is also creating new challenges for the people who manage local and national power grids.
Robert Gross, director of the centre for energy policy and technology at Imperial College, said fossil fuel plants were having to ramp up and down more quickly to adjust to wind and solar output.
"My understanding is that's not causing any insurmountable problems [for the grid]. The way I heard it characterised is the National Grid control room now finds summer to be more worrisome than January nights. Now it's the [challenge of] solar and low demand on very sunny days [rather than high demand days in winter]."
His research shows that costs for managing the grid – balancing supply and demand as the energy supply becomes more variable – will not rise prohibitively until the UK has at least twice as much wind and solar power as it does now.
But for some observers, such as credit agency Moody's, wind and solar presents a long-term risk to Europe's energy networks. "The growing share of electricity from renewables has already had adverse effects on incumbent generators and energy networks are not immune," it said in a report this week.
But Duncan Burt, who oversees daily operations at the National Grid, is sanguine about the renewable records. "It's one of these things where we've tipped through a threshold. But the work we've done to get ready for this has paid off," he said, citing a grid-run scheme that encourages large energy users to increase their demand during summer periods of low demand and high wind and solar output.
The UK isn't done with records this year yet, Burt thinks, suggesting solar could go higher and carbon intensity might go even lower than the 90g CO2 per kWh last Sunday, to as low as 80g. "I think we will beat them several times this summer."
Germany's view
When Angela Merkel announced in 2011 that Germany would seek to phase out its nuclear reactors by 2022, questions arose as to whether renewable sources of energy, such as wind or solar, could grow quickly enough to meet the requirements of German industry.
Yet six years later, renewable power stations across the country are producing power in such abundance that conventional providers relying on coal and gas are being squeezed out of the market, and the state has to pay some renewable energy companies to switch off their turbines to stop congesting the power grid.
On one particularly sunny but windy day, on 8 May 2016, a record 87.6% of Germany's energy needs were met by renewables: an inspirational achievement, were it not for conventional power stations continuing to produce energy at their usual rate. As a knock-on effect of the oversupply, energy market prices collapsed, adding further volatility to a rapidly changing the environment for energy companies.
E.ON, Germany's biggest utility, reported a record loss of €16bn (£14bn) for 2016 and said it would have to cut around 1,300 jobs, 3% of its total workforce. The previous year, E.ON had already posted a loss of almost €7bn.
Both E.ON and RWE, Germany's second-largest electricity provider, have reacted by radically restructuring their companies, splitting their renewable business from their fossil-fuel operations and selling stakes in the new operations to investors. E.ON hived off its gas and coal power stations into an entity called Uniper at the start of 2016. RWE moved its renewables business into "RWE International" on 1 April 2016.
Cries of woe from lobbyists haven't gone unnoticed, and the future of Germany's big energy giants could feature in the upcoming federal elections in June. Some politicians from the pro-business wing of Merkel's Christian Democrats have called for an end to state subsidies for green energy by 2021. Providers of green energy don't receive "subsidies" in the sense of direct payments from the state, but are guaranteed a fixed price at which they can sell energy into the grid.
Philip Oltermann