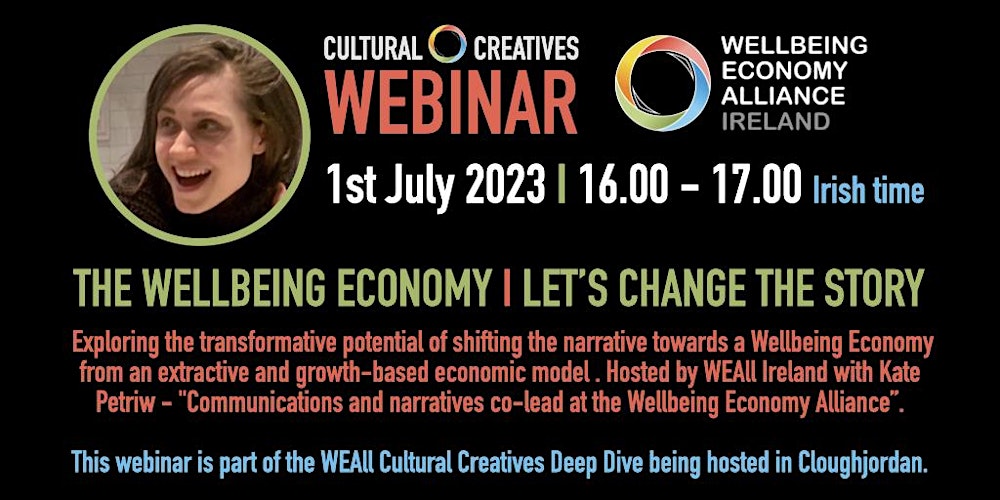 In this online event we're delighted to be joined by Kate Petriw, the Communications and Narratives Co-Lead in the global Wellbeing Economy Alliance (WEAll). Kate will give an overview of the research that WEAll Global has been doing on messaging and narratives on the wellbeing economy – an economy designed to serve people and planet, not the other way around. The event will be part of a Deep Dive workshop organised by the WEAll Ireland Hub in Cloughjordan, Co Tipperary.
For over 10 years, Kate has developed strategic and innovative campaigns for organizations in both the environmental space and wellness sector. Prior to joining WEAll she led communications at Green Economy Canada driving awareness to programs that supported SMEs on their journey to net-zero.
In addition to her work in the sustainable business realm, she founded a mental health start-up that she ran part-time with the aim of making the topic more approachable. This led to a bestselling book that she co-authored.
Kate became passionate about transforming our economic system after realizing the negative impact it had on our planet, communities, as well as our physical and mental health. She holds a B.Com from McGill, has lived and worked in Paris, New York, and London, and is now settled in her hometown of Toronto.
Join us for a discussion with Kate on Saturday July 1 from 16:00 to 17:00 Irish time.