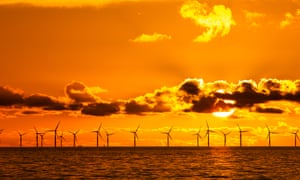 Analysts predict sea change in energy policy as falling costs for offshore power will charge UK taxpayer at least 10% less than deal handed to new nuclear plant
Windfarms around Britain's coast will beat the planned nuclear power station Hinkley Point on price when the winning bidders for a £290m-a-year pot of government subsidies are announced on Monday, experts predict.
Such a milestone would mark a dramatic cost reduction for a technology that was once far more expensive than atomic power, and could fuel calls for a rethink over the UK's future energy mix.
Industry watchers said successful offshore windfarm developers may secure guaranteed payments for power as low as £70-80 per megawatt hour in the government's auction, known as the second Contracts for Difference Allocation Round.
In comparison, France's EDF has been promised £92.50 per MW hour for power from the two reactors it is building in Somerset, around twice the wholesale price. The subsidies are paid by consumers via levies on energy bills.
"I think [windfarm developers] will bid very aggressively and below the headline strike price of Hinkley Point," said Richard Howard, head of research at the energy analysts Aurora Research, adding that the anticipated lower price was a result of dramatic cost reductions by the industry, brought about by the technology maturing.
For example, developers are using much bigger turbines than half a decade ago, and less steel in the foundations that attach them to the seabed. The sector is also now perceived to be a much lower risk, bringing down the cost of capital.
If the guaranteed price of power is as low as £70 per MW hour – a level at the extreme end of what industry figures think is credible – that would mark a 42% reduction on the £119.89 price awarded for offshore windfarms in the last auction, held two years ago. Contracts awarded in 2014 were £155.
Emma Pinchbeck, executive director at the industry group RenewableUK, said: "I think it's a watershed moment for renewables. If the price comes in as low as people are suggesting, it means large-scale renewable generation will be cheaper than incumbent technologies. The idea that renewables are expensive is going to be undermined."
Howard said one reason developers might bid very low was because there was uncertainty over when or whether future auctions would be held for offshore windfarms in the UK.
Pinchbeck urged ministers to commit to a timetable for further auctions. "The idea that there will be more auctions, that's really important, for developing and keeping a supply chain in the UK," she said.
The government has allocated another £440m a year for further auctions held before 2020, but since the general election it has not made clear whether they will still go ahead.
The developers expected to share in this week's £290m pot are Germany's Innogy, Spain's EDP and Denmark's Dong Energy. The lower the companies bid in the competition, the more generating capacity will be built.
Together, the successful windfarms are expected to supply around 2.5-3.5% of the UK's electricity demand when operational in the early 2020s.
The results of Monday's auction could ignite a debate over UK energy policy, and whether the Conservatives should rethink their long-standing plan for a new fleet of nuclear power stations to replace ageing reactors and coal plants, which are being phased out.
Greenpeace said the low prices would mark "a huge moment for the UK energy sector".
Keith Anderson, chief corporate officer at one of the UK's biggest energy companies, ScottishPower, said: "My challenge to the nuclear sector would be: look, here's the cost reduction offshore wind has demonstrated.
"The challenge to nuclear industry is if you don't want people to criticise the £92.50 per MW hour [subsidy that nuclear is receiving], show us how you are bringing the cost down. That is a colossal challenge."
He said that with the UK committed to a low carbon economy regardless of Brexit, and with gas replacing coal on the power system, now would be a good time to ask where the country would go next on energy.
The nuclear industry argues that no single low carbon source could meet the UK's power needs alone.
"With two-thirds of the UK's currently dispatchable generation capacity due to retire by 2030, including all but one of the current nuclear fleet, the UK will need the full range of low carbon technologies to provide the reliable, secure and readily available power for homes, businesses and public services," said Tom Greatrex, chief executive of the Nuclear Industry Association.
EDF said future new nuclear projects such as Sizewell C in Suffolk would be at a lower cost than Hinkley.
The auction results, due at 7am on Monday, are also likely to inform a major government review of the costs of energy set to be published in October.