Motorists will be prohibited from driving vehicles older than 20 years on weekdays from 2019 in effort to cut emissions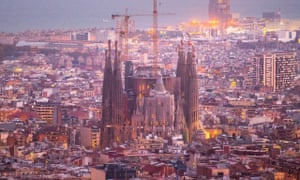 Barcelona will ban cars that are older than 20 years from the roads during the week to cut traffic emissions by 30% over 15 years.
The measure – a joint initiative between the city council, the Catalan government and other metropolitan bodies – will come into force on 1 January 2019 and will cover Barcelona and the 39 surrounding municipalities.
Under the terms of the agreement, it will be prohibited to drive private cars registered before January 1997 and vans registered before October 1994 on working days.
Although the ban does not come into force for two years, those vehicles will already be banned from the roads during periods of high pollution from 1 December this year.
According to the city council, the move is likely to affect about 106,000 cars – 7% of the total in the area – and 22,000 vans (16% of the total).
"[The aim] is to reduce emissions by 10% over the next five years to gradually reach the levels recommended by the World Health Organisation and accelerate the adoption of more intensive local measures in order to reach the levels set by the EU before 2020," the city council said on Monday.
Janet Sanz, the city's deputy mayor for the environment, urban planning and transport, said the authorities were showing a united front to tackle the problem. Barcelona's poor air quality is thought to cause about 3,500 premature deaths a year.
Sanz said: "The people of Barcelona have told us clearly in surveys that they want to fight against air pollution because it is a health problem of the first order."
The city hopes to win people over by offering free public transport to those who give up their vehicles.
At the end of last year, the mayors of Madrid, Paris, Mexico City and Athens vowed to fight air pollution by banning diesel cars and vans from the centres of their cities by 2025.
This week, the WHO said pollution was responsible for one in four deaths among under fives , with the leading causes being toxic air, unsafe water and a lack of sanitation.